Ernst Haeckel: Die Radiolarien
(RHIZOPODA RADIARIA)
Berlin, 1862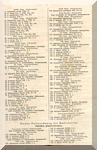 Press on the icons above to see enlargement (100 dpi).
See also 300 dpi scan of titel page.
These are the 35 copper plates that accompanied Ernst Haeckel's Radiolaria book from 1862.
This volume has kindly been provided by Prof. Dr. Peter von Sengbusch (Institut für allgemeine Botanik, Hamburg, Germany).
The 35 plates were scanned by Kurt Stüber using a Hewlett Packard ScanJet 6100C flat bed scanner. Earch plate was scanned twice: 1. using 100 dpi resolution and 2. using 300 dpi resolution, since 100 dpi did not reproduce all the fine details of the engravings. The size of the 100 dpi scans is about 3 MByte (uncompressed) or about 500 to 700 KByte (compressed). The 300 dpi scans range at about 27 MByte (uncompressed) or 4 MByte (compressed).
Hint: Use the 100 dpi scans for viewing in your browser. The 300 dpi scans are so big, that they probably will not been displayed by your browser. Better download them into your computer and user Photoshop or any other image manipulation program to display or print them.
© (of the HTML version) 1998 by Kurt Stüber.